Have you ever..
...felt like all the ELT (English Language Teaching) jobs out there are for 'native speakers' only?
...spent hours polishing your CV and sending rock-solid applications just to be turned down yet again because they only hire 'native speakers'?
...been on the verge of giving up on your dreams of finally getting the ELT job you deserve, because you're constantly told that we won't hire 'non-native speakers'?
If your answer is yes to any of the above, I've got very good news for you.
It doesn't have to be like this.
I've landed my dream ELT job (more than once, actually) and so can YOU .
Since I started TEFL Equity Advocates & Academy, I've been receiving emails and questions from countless 'non-native speakers' who are struggling to get a job.
Like you, they might have all the right qualifications and experience. Like you, they might be great professionals, passionate about what they do.
But still, the jobs just aren't coming. And more than half of all the ads are for 'native speakers' only, anyway.
Just check out this little gem below that I saw on tefl.com a few weeks back. Looks familiar?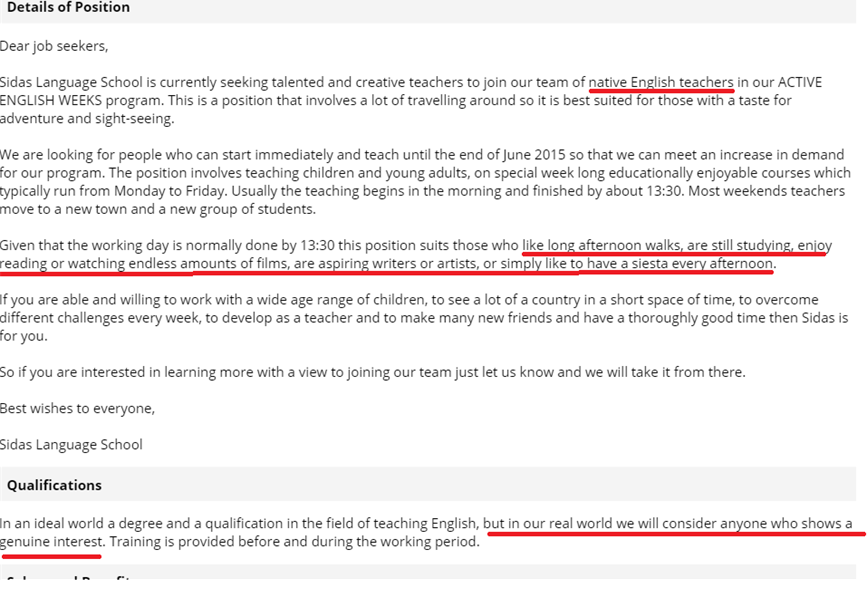 So one half of the jobs are for 'native speakers' only (or the new kid on the block: 'native level' candidates with 'native-like' proficiency, which is basically an indirect way of telling 'non-native speakers' NOT to apply).
The other half you apply to, never gets back to you.
Or when they do reply, it's a polite NO:
You know, your qualifications are great, and we'd love to have you, but we only hire 'native speakers'. I hope you understand. This is what the client demands. It's nothing personal.
But it really doesn't have to be like this...
Just take a look at this positive response I received from a recruiter the other day. A recruiter who originally advertised for 'native speakers' only.

Over the years, I have received countless similar responses. I've managed to get great jobs across the world in the public and private sector. I've taught English in seven countries in language schools and universities.
And I know that I could walk out of my job, move to a new country and quickly find a great position at a great school.
Why should this be important to you?
Because YOU deserve the same results!
And because after taking this course you can learn exactly how to start receiving plenty of positive responses from recruiters on a regular basis.
And more than that.
What you're going to learn in this program will drastically improve your chances of landing your dream ELT job, even if you've been turned down before because of your first language.
This isn't fantasy.
It's the new reality.
Join "The Highly Employable and Successful 'Non-native Speaker' Teacher" program now and learn the exact process that will boost your confidence and help you land your next ELT job.
Cover photo Benjamin Davies